About Us: We woke up.  Now we're waking up others to build world peace.
Kristy and David's Story
How we committed to work for world peace and ended up in Costa Rica on a permaculture farm hosting volunteers from around the world.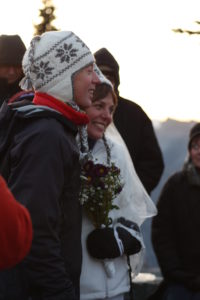 How Can We Help Create World Peace?
"Whatever you can do or dream you can, begin it.
Boldness has genius, power and magic in it!" Goethe
From our first date, hiking in the Cascades, David and I believed that we had come together to make greater combined effort toward a better world. So, on the International Day of Peace, September 2009, we asked the universe for guidance on how to put our hands to work toward Peace. It was with this intention, that we feasted on bananas dipped in chocolate fondue. Ultimately, this little ritual turned out to be a powerful launch into the direction our lives would take.
Within a week, the universe answered. David's dad gifted us enough money for a honeymoon anywhere in the world. It was then that David remembered that  the Pachamama Alliance organizes trips  aligned with our intention.  It just so happened, that they had two spots open on an eleven-day trip into the Amazon Rainforest. Consequently, we met up with 17 previous strangers in Quito, Ecuador a few days after our wedding.  Pachamama Alliance Trips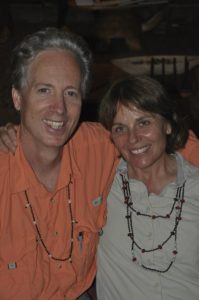 Awakening from the Dream of the Modern World
We "woke up" in a hand-crafted palm structure deep in the Amazon jungle; the "lungs of the planet"  sipping chicha, a fermented drink of manock root. While sitting on rustic benches in a palm structure, we learned about systems, sustainability, and leadership from the Achuar. Through interpreters, we listened to people, who have been living a truly sustainable lifestyle for thousands of years.
Without power, deeds, lawyers, and capital, our host's lives are threatened by massive deliberate pollution from oil and timber extraction. There we were, face-to-face with people that are being negatively impacted by the lifestyle we had previously taken for granted. In other words, our consumption is causing their destruction. Digging deep, we felt ashamed of our thoughtlessness in driving cars and burning up resources as if there is no tomorrow.
A dream culture, the Achuar people see people in the modern world as living in a dream rooted in consumption that is causing their destruction. Our host implored us to "go back and change the dreams of the north". It was then that we realized that changing our culture's consumption habits was key to creating peace. Not an easy thing to face.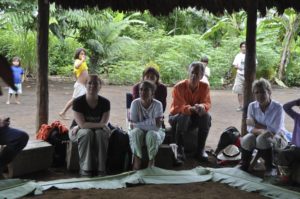 Wetiko: An Algonquin word for a cannibalistic sprit driven by greed, excess, and selfish consumption. It deludes its host into believing this is a logical and  morally upright way to live. 
Now that we're awake, what can we do?
After meeting people living happily with few possessions in harmony with nature, we were uncomfortable going home to our previous lifestyle. Additionally, we felt a responsibility to wake up others from this toxic dream. The trip had cemented our knowledge in why the change was important, but we struggled deeply with how or where to begin.
In Transition
While not knowing exactly how we could tackle this giant task,  we were invited to join a group reading the Transition Handbook. The book was written by Rob Hopkins, a Permaculture Instructor in Totness, England. The handbook helps communities develop an energy descent plan away from fossil fuels. The handbook articulated a hopeful way forward to work with nature, through community to heal the planet. Suddenly, we were part of a community of like-minded individuals forming a local Transition Group. With them, we hosted events, discussions, and films through Snoqualmie Valley Transition.
Most significantly, we discovered that we were not alone. In fact, the Transition Town movement is spreading worldwide. Transition Network. Around the globe, people are learning how to create a "benign or beneficial human presence on the planet."
"Now is the time for us to take stock and to start re-creating our future in ways that are not based on cheap, plentiful and polluting oil but on localized food, sustainable energy sources, resilient local economies and an enlivened sense of community well-being."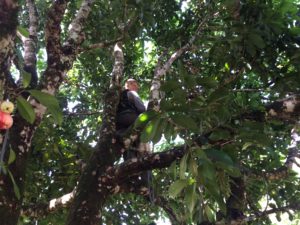 Peace and Prosperity through Permaculture
"We can't have peace on the earth, until we have peace with the earth."  Julia Butterfly Hill
The more we learned about Permaculture, the more we were convinced that it provided a solid framework upon which to build a peaceful world.
Why Costa Rica?
For a long time, David had wanted to live outside the United States. We both felt responsible for pain and suffering around the world, that maintained our unsustainable lifestyle. However, for me, close ties to family and friends made it difficult to think about moving far away. To this day, the hardest part about being here, is being so far from those I love.
While attending an International Living conference in Toronto, I won a door prize for a three-night stay in Costa Rica. We decided to vacation there to look at potential land investment. In the second day of looking for property near the small town of San Vito in the southern intermediate highlands of Costa Rica, we fell in love with a 33-acre former dairy farm and put down an offer that was accepted.
Did you know that this little country shut down their military in 1947?  How Costa Rica ended their military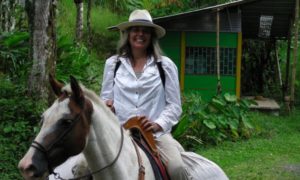 Taking the Leap into a New Life, New Culture, and New Language
In the economic downturn, David's business was in a slump and we began to look at that property as a place we might live and practice permaculture. Soon after putting our cozy hand-crafted home in Redmond on the market, it sold to a couple who fell in love with it. They even adopted our lucky ducks, 6 Kackie Campbells, who had survived bobcats and eagles to regularly lay delicious eggs.
Patos Suertudos means Lucky Ducks in Spanish. Being an unusual name not rhyming, it was apparently not in use. So The "Lucky Duck" farm, named in Redmond by Kristy's mom, transplanted a new language and new culture in the tropical ecosystems of Costa Rica.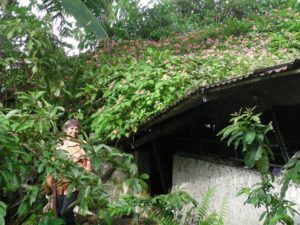 Practicing Co-creating Natural Systems of Abundance Through Ethics and Principles of Permaculture Design
Looking back, it all happened much more quickly than we could have imagined. We had returned to the states dreaming about our new place in Costa Rica. A vision of practicing permaculture principles and systems design became our passion.
Doors opened. My position with the Community Network was easily filled. Within seven months of making the offer on the land in Costa Rica, we made a our move to begin a new life in a new culture, learning a new language. Our immediate goal was to develop this piece of property into a permaculture demonstration site.
When we arrived in Costa Rica, at the end of February 2012, the potential we'd envisioned became lots of hard work. So, when David's dad suggested looking for help from out-of-work construction workers, it seemed like a good idea. A neighbor of ours  Wwoofed in Europe volunteering on organic farms. After searching for similar sites, I was pleased to find the  Workaway Volunteer Website, offering a wide range of opportunities.
We are not alone. There is a whole worldwide movement creating the future from the ground up.
Join the fun. Follow our story from the beginning, as Patos Suertudos continues to learn and grow.
Pura Vida