David and I arrived back at the farm from our June trip to the states, wet, and missing some luggage, but happy to be home.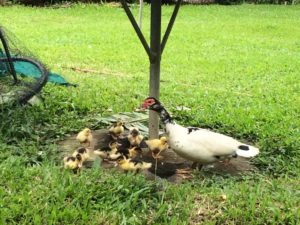 Karlee had courageously held things together for us.  It is challenging to single-handedly manage 33 acres including three staff, two horses, little bull, dog, cat, sheep and ducks. In the middle of this, she was joined by her brother Matt and his partner, Sheila. They had an exciting week of dying-off baby ducklings and nursing the rejected black sheep of twin lambs.
After filling us in on all the happenings and enjoying a few more days together, Karlee left on an extended bicycle journey north.
Juan, Leo and Co. kept weeds that have grown up to five feet in June from overtaking newly planted trees. They also built new shelving for re-organizing space and cleared out most of the basement of the "termite house" for reconstruction.
Karlee and Leo represented Los Patos Permaculture at a local festival in partnership with the Botanical Gardens. They demonstrated how to manage erosion with swales, trail construction, and use of plants such as vetiver. This is important education for a place that gets 160 inches of rain a year. It was a hit.
Baby lamb, Onex is growing quickly with fresh milk from the neighbor's cows. So we have a newborn, feeding regularly and at night. This is serving a purpose of us getting to really know about sheep. Not just have a flock that runs when you come near down in a lower pasture. She's beginning to playfully hop sideways and butt her adoptive mother-dog, Canela and Pete the Cat. Her mom and white sibling, Spot joined the rest of the flock yesterday.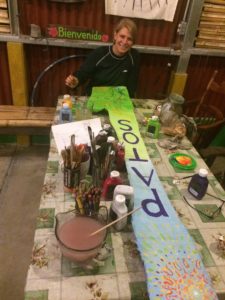 On the negative side, the super expensive Saber washing machine broke. So I'm figuring out how to use a fancy high tech new washer with a mountain of wet clothing and a flea outbreak. Plus, we're purging and sorting worker's clothing and left-behinds to move.
David cycles into the farmer's market, getting a break from planning and readying for remodeling. There, he will enjoy visiting, buying fresh local food, and giving away two panniers full of sprouting-out turmeric roots.
Highlights of our June trip north: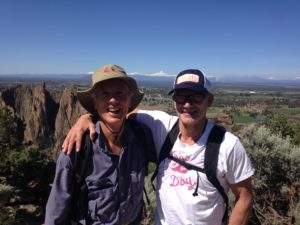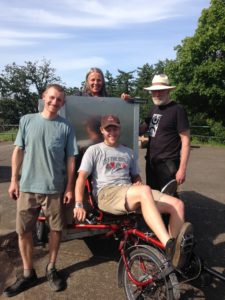 Feeling like being in a garage of the future in Eugene in co-designing an electric-assist bicycle trailer for the hills of San Vito.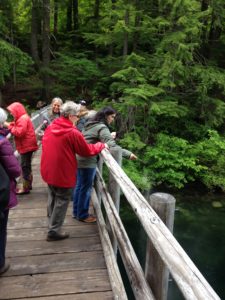 David's daughter Alexis' 26th birthday with friends and all of her parents together in Portland.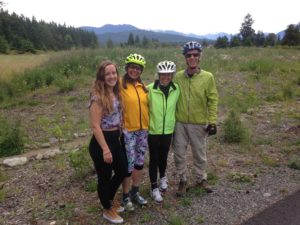 Hanging out with and opening up more sunlight in daughter Haley's garden.
A private special guided tour of the spanking new BARN (Bainbridge Artisan Resource Network with organizer- friend, Carolyn and her husband Jeff that included ALL of our kids. It is incredibly impressive how this community came together to create such a special place to learn and share.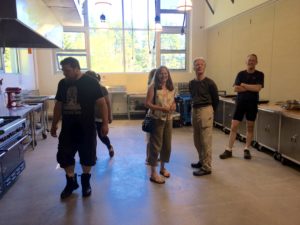 On the way to the ferry, I hitched a ride with Kevin and Haley as he dropped in to Bainbridge Brewery. I got a peek into Kevin's work  with small scale brewers. Then for first time ever,  I sat down to a brew with my kids.
Especially fun, was watching Great Niece, Shirley blow bubbles with her cousins at her second birthday party. Then the next day, I appreciated time in her grandpa, brother Kregg's dentistry chair, as he repaired my broken crown.
And finally,  remembering granddaughter Lydia's 10th birthday, on Pearson Point dock with my daughter Haley. With a loving hug out to Kevin and Lindsey in this first anniversary month of losing their precious daughter.
Pura Vida