Greetings!!!
Welcome to Kristy's Blog; our new permaculture journey home on WordPress! This page is continued from the first five years blog of journey guided by ethics toward peace and prosperity on the planet in the highlands of Costa Rica.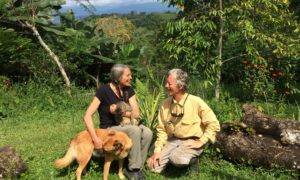 Most especially, thank you to those who have  been following launchpath.tumblr.com and asking for the next post. Your nudges, with my inner drive to share, pushed me up a steep skill-building learning curve to put together and launch this site. Thank you for your patience. Now you can follow along on Patos Suertudos. 
In early March, when I was unable to upload photos to my latest update, I took it as a sign, that it was time to finally, build a website for Patos Suertudos. Especially now, since we can now demonstrate five years of regenerative permaculture practices in action, we need to share what we have learned.
As conditions on the planet worsen, we can either grow discouraged, or turn to a system offering a workable vision toward a better future. My purpose with this site is to amplify our work, and to inspire hope.  Or perhaps, just serve as a distraction from the pressures of your daily life.
Follow the latest happenings on the finca, including projects, photos, who is here, and what we are learning.  Click on the links to more detailed background information. Join the journey to build an abundant future guided by the ethics and principles of permaculture. Earth Care, People Care, Fair Share.
Please feel free to comment and share whatever you find here.
We're not alone. A whole movement is building from the ground up. 
Join the fun. 
Kristy