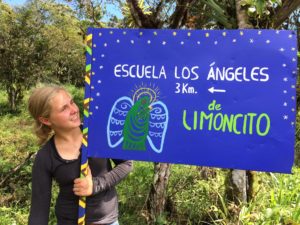 Getting Here:  Map
From the North
From the airport in Alejula, a bus to San Jose costs about $2. A taxi from the airport to the Tracopa station costs about $30. Tracopa's clean modern busses to San Vito leave San Jose at 6, 8:15, 12, and 4. It takes 6 hours, so it is best to catch an early morning bus to arrive in daylight. Tickets cost about $14. Buying a ticket early can ensure a seat.
You can also do the bus trip in two 3-hour legs, you can take Tracopa or Musoc to San Isidro and stay at the affordable Chirripo Hotel on the park. Buy your ticket for San Vito when you arrive, if you can, as it fills fast and you want a good seat close to the front, even if you don't typically get carsick.
Tell the driver to stop at Los Angeles de Limoncito 10K prior to San Vito, the stop just before the hill with three communications towers. The bus tends to speed up there to climb the hill, so be ready for it. The covered bus stop structure on the left has an orange metal duck weathervane on top and a  sign to Los Patos.  Walk 1.6 km to find our colorful metal gate on the right with ducks flying into the sun. The dog's name is Canela, she'll bark and sound threatening, and may jump up on you, but won't bite and is happy to see new friends with backpacks.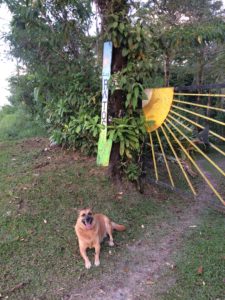 If you miss the stop or have too much to carry, you can taxi back to the finca from the park in San Vito in a red taxi for about $18. A local bus to Sabanillas or to Buenos Aires can also get you back to the stop for just over $1. It can be confusing to find the right bus. It helps if you speak Spanish.
From the South:
You can get a bus from Cuidad Neily to San Vito. From San Vito, a taxi or bus can drop you at the bus stop at Los Angeles de Lemoncito, toward San Jose. (Look for the orange duck on the top of the bus stop at the bottom of the hill with three towers on your right.) The finca is 1.6km from the bus stop. You can take a bus from the Rio Soreno Panama border to San Vito and a bus from there to the Los Angeles de Limoncito stop. Follow the signs to Los Patos Permaculture.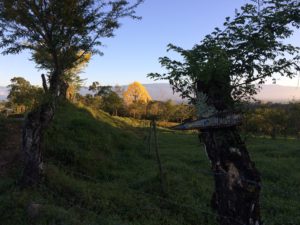 Border tip:
When going through customs, ask for more days than you think you'll need. They can give you up to 90 days, but sometimes give fewer and it can be a hassle to get it extended later.  Make sure you look to see the number of days so you can be mindful of when you need to exit the country. Seriously. We know people who have found themselves in jail without the proper stamps.
Bus schedule:
| | | | | | |
| --- | --- | --- | --- | --- | --- |
| Sabanillas to San Vito | San Vito to Sabanillas | SanVito To San Jose | San Jose to San Vito | SanVito to Cuidad Neily | Cuidad Neily to San Vito |
| 6:00 am | 7:00 am | 5:00am | 6:00 am | 7:30 am | 6:00 am |
| 7:15 | 9:00 | 7:30 | 8:15 | 9:00 | 9:00 11:00 |
| 8:00 | 11:00 | 10:00 | 12:00 noon | 11:00 | 12:30 |
| 10:00 | 1:00 | 3:00pm | 4:00 | 12:00 noon | 1:30 |
| 12:00 noon | 3:00 | San Vito To San Isidro | San Isidro to San Vito | 2:00 | 3:00 |
| 2:00 | 5:00 | 6:45 am | 5:30 am | 5:30 | 4:00 |
| 4:00 | 7:00 | 1:30 pm | 2:00 pm | | 5:30 |
| 6:00 | | | | | |
| San Vito to Buenos Aires | 6:00 am | 9:30 | 12:00 noon | 4:00 | |
| Buenos Aires to San Vito | 5:30 am | 9:30 | 12:00 noon | 4:00 | |