Patos Suertudos Guest Programs 2018
Eco-Tourism- Permaculture Style
 Drop out of the nightmare-dream of the modern world and into a model of a future we can live into 
Immerse yourself in a permaculture lifestyle in balance with nature.  Come for a day, spend a night, week, or longer. Design your stay for specific lessons and experiences, or sign up for a scheduled event.
The Patos Suertudos Permaculture demonstration site is located in the southern highlands of Costa Rica, overlooking Coto Brus Valley and the 3,000 km peaks of Amistad National Park.
"Permaculture: (Permanent agriculture) is the conscious design and maintenance of agriculturally productive ecosystems that have the diversity, stability, and resilience of natural ecosystems. It is the harmonious integration of landscape and people providing their food, energy, shelter, and other material and non-material needs in a sustainable way. Permaculture design is a system of assembling conceptual, material, and strategic components in a pattern functioning to benefit life in all its forms.
The philosophy behind permaculture is one of working with, rather than against nature; of protracted and thoughtful observation rather than protracted and thoughtless action; of looking at systems in all their functions, rather than asking only one yield of them and of allowing systems to demonstrate their own evolutions. "  (Bill Mollison)
  "This finca is such a special place! — sustainability, minimalism, and conscious symbiosis with the earth….. I would highly recommend this experience for anyone wanting to establish a better connection to the land and as an important stepping stone in understanding our broader impact and integration as humans within this natural system. An all-around enriching experience that I would happily do again." La'akea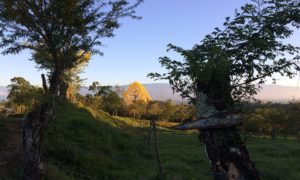 Day Tours:
Take a guided walk through the gardens to experience the Patos' unique Permaculture design features. Taste what's growing, learn about medicinal plants, animal, and timber forests. Tour facilities built with local and natural materials designed with open air flow for the wet tropics. Enjoy delicious healthy food prepared with renewable energy. Participate in current activities.
With three day's advance notice, we can accommodate up to five people, with one week's notice, groups of up to 20.
Per Person $25, or CR Colon equivalent; includes lunch.
FACILITIES:
Overnight Stays: Participate in the current activities of the farm, which may include harvesting, food processing, gardening, tree planting, construction, or animal care. Per Person, per night- $75. Price includes meals, one hour tour, and optional work activities.
The Orapendula House is the community meeting space, theatre, kitchen, dining room, library, solar electric system, and theater. It currently has a one guest room in the library, with queen size bed, humanure toilet, sink, and shower.
The Sunrise Porch of the old farmhouse houses up to four people. It offers a small solar system of LED Xmas lights, humanure toilet, shower, and sink. All beds have mosquito nets.
Creekside Cocoon Opening soon: two rustic rooms, with shared bathroom a short walk from the main house, in a private, screened-in natural relaxing setting.
Toucan Cabin:   You can rent a private rustic cabin about ½ kilometer from the main house with a comfortable full-size bed including bug net, humanure toilet, and water. It is electricity-free, with a small solar light provided. Bring a strong flashlight. Maximum 2 people. Includes meals.
Per Night – Single Occupancy:    $100
Per Week – Single Occupancy:   $550
Per Night – Double Occupancy:  $150
Per Week – Double Occupancy: $800
Camping:
Campers can stay from January through March with your own tent, bedding and towels. Be prepared for all kinds of weather. Having a tarp is recommended.
$50 Per Person, Per Night with meals, toilets, shower, and drinking water
$300 Per Person, Per Week.
Showers: The showers at the houses are heated by the sun and are hot when the sun shines. Please limit to one per day for less than ten minutes, paying mind to others in line, and using biodegradable body care products. There is also an outdoor shower (unheated) next to the Sunshine Garden.
Humanure Toilets: To save thousands of gallons of water each year as well as create rich compost, we use a humanure system of five gallon buckets with plastic toilet lids at Patos Suertudos. We use this valuable resource to fertilize our trees. All biodegradables go into the bucket and are covered with sawdust until it doesn't smell.  Buckets are later emptied into a compost system. For more: https://permaculturenews.org/2008/09/18/humanure-handbook-free-download/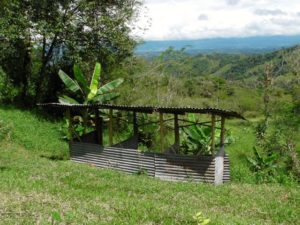 Electricity & Internet: Off-grid solar, battery backed system. You can charge computers and cell phones during day time hours only at the discretion of management, based on solar availability and needs. There is very limited internet usage. Bring your own access, or visit La Union, 2 miles away or San Vito. Moviestar currently has the best coverage here. You can buy a local pre-paid chip for an affordable price.
MEALS:
Breakfast and Dinner at Patos Suertudos are served family style. Lunch is buffet style.  Many ingredients are harvested on site and from the farmer's market, organic when possible. Some things have to come from the grocery store. Meals are prepared with wellness in mind. This is a good place to get healthy.
The menu is typically paleo and vegetarian, gluten and dairy-free. Vegans may need to bring additional food. We cannot accommodate fully raw diets. We serve a lot of fresh fruit and large salads. Bring your own snacks and carry out the packaging.
Please let us know when you reserve your stay about any dietary needs or allergies.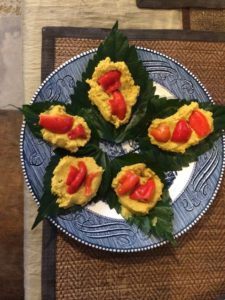 Current daily schedule:
5:30 (Sunrise) Yoga or drumming (If the sun doesn't awaken you, the grey-necked wood-rails and other birds will)
6:15 Staff meeting on the kitchen porch, coffee, tea
7:15- 8:30 Guest Breakfast and Spanish practice
8:30-9:30 Farm Duties
9:30-12:00 Guided tours or instruction
12-1:00 Lunch Break
1:00 to 5:00  Work, study, or personal time (2:00-4:00 quiet time)
4:00 Dinner preparation
5:00-6:00 Dinner
After Dinner- Documentary, music, group activity, conversation, or personal time.
9:00 Lights out, quiet time. (Or earlier, you will be tired and it gets dark at 6pm)
What to bring: Travel light with only what you need. We provide towels, blankets, sheets, mosquito nets, work clothing, rubber boots, hats, gloves, and slip-on crock knock-off footwear.
Tall socks
Biodegradable shampoo, soap, etc.
Light weight, long-sleeved shirts and pants (bring summer wear if you plan to travel to the beach or lower elevations)
Sweater or jacket for the cool mornings and evenings
Light-weight rain jacket with hood
Umbrella
Headlamp or flashlight
All-natural bug repellent
Yoga Mat
Headphones or earplugs if you're sensitive to animal noises at night.
Bicycle shorts and SPD shoes or other shoes fit for bicycling. We supply helmets.
Daypack
Mollison's Introduction to Permaculture, (if you have one), a notebook, and writing implements.
Deva cup or biodegradable feminine products for the humanure system
"Dave and Kristy are very welcoming, loving and passionate people with a strong ambition to change the world for the better. I came into this experience knowing very little about permaculture or even agriculture in general and left with an inspiration to spread the philosophies I had learned. With the resources available in Dave, Kristy and their extensive library, along with the fresh organic food and good exercise, this was a nourishing experience for both the body and the mind. Overall, Los Patos permaculture is a sanctuary of learning if you come ready to work and with an open mind." Liam