Working Guests:
Immerse yourself completely in the permaculture lifestyle. Los Patos offers a huge variety of features and experiences. You will leave inspired and energized, knowing you are not alone in your quest to make a positive difference.
Working guests are offered a week-long minimum guest stay. Working Guests are required to work a minimum of 3 hours per day in various finca chores and activities. Working guests sleep in a comfortable bed and receive three meals a day for $200 per week, per person.
Overall, Los Patos permaculture is a sanctuary of learning if you come ready to work and with an open mind" Liam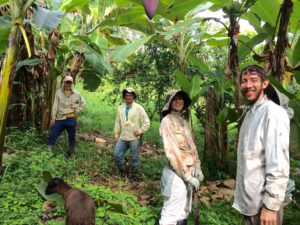 Volunteer projects include:
Help establish food, medicinal, and wood forests and gardens: build soil, prepare compost, weed, plant, propagate, and harvest. Tree and food planting in rainy season (May – November)
Animal care: help care for ducks, sheep, dog, cat, and horses.
Prepare nutritious food: creative cooking using as much grown on site as possible in a wood-fired mud rocket kitchen or parabolic solar cookers, and solar dehydrator.
Construction with locally available and natural materials, including bamboo, clay, and wood from the property and cement and steel that hold up in very wet climates.
Building swales and trails (moving lots of dirt) in the dry season (December-April)
Bicycle transport: Bicycle to town weekly for groceries with panniers and required safety gear. Bicycle repair skills are a plus.
Marketing: in the process of establishing products for the local farmer's market, and education.
We are learning Spanish, and appreciate your Spanish skills. English is helpful for us to give specific directions.
Farm management and farm-sitting potential internship opportunity for super responsible applicants with experience.

Please apply ONLY if you:
Have relevant experience and a passion to learn and lead into a future partnering with nature toward ecological restoration and social justice through a lens of permaculture design principles.
Feel "blessed unrest" about the state of the planet and a personal quest for making a positive difference toward health, peace, and spiritual growth.
Are committed to volunteer a minimum of 3 hours a day, in addition to preparing meals and cleaning.
Are physically fit enough to ride a bicycle a hilly 12.5 km into town for groceries once a week.
Are helpful, hardworking, easy to live with, self-motivated, learning, clean, organized, fun-loving, creative, multi-skilled, a problem solver, adaptive, happy working in the dirt, free of addiction and drama, happy, curious, open minded, hopeful, determined to create a better world, communicative, professional, and able to work independently or on a team.
Are healthy and free of communicable disease and understand that due to limited facilities, persons with contagious diseases cannot participate, and hereby state that you do not have a serious contagious disease that would endanger other participants or the staff at Patos Suertudos.
Have filled out the application without false or misleading information. You release all staff members at the Finca from responsibility and liabilities during your time spent at Patos Suertudos.
Consider this a drug free zone.
Working Guests Application Form

Disclaimer:
We're still just figuring this out.  Because the level of trust and closeness necessary at Los Patos, we reserve the right to end the visit at any time, and part amicably. This experience is not for everyone. You can also end the visit at any time.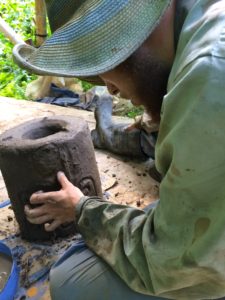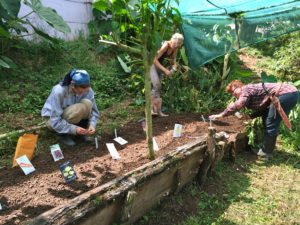 "I had a fantastic time at the Finca. Kristy and David are amazing hosts, passionate about everything they do and really wanting to share their lifestyle and their values to make a change in the world. They know a lot about permaculture and are always happy to teach and share their knowledge, books, documentaries, and any resources they have." …Sandy